Since the early 2000s, social media has revolutionized how we communicate, connect with loved ones and share our interests. As of 2020, around 3.6 billion people are on combined social platforms. The number of internet users in Canada has grown to 36.89 million. 
Social media's emergence has also reshaped how businesses keep in touch with their customers. Brands are built by establishing a presence on various social media platforms. The personal aspect of social media also allows businesses to nurture connections with their customers and foster brand loyalty.
By advertising, businesses can also introduce their products to expanded audiences on social media. By crafting targeted, dynamic ads, businesses can connect with people likely interested in their range of offerings. Businesses can also utilize social media to showcase their products and services and prompt people to purchase. Platforms such as Facebook and Instagram have introduced features for businesses to sell their products directly on their platforms.
Let's take a look at the major social media platforms people around the world are enjoying today.

Facebook
Facebook is the world's biggest social media platform, with 1.93 billion active subscribers as of 2022. Its dominant demographic comprises male (18.4%) and female (12.6%) users between the ages of 25 and 34.3. In addition, 75% of online users with an income higher than $75k use Facebook, making it a bankable platform for digital marketing.
In 2022, Facebook is the most used social media platform in Canada with 76.90% of the internet users (28.37 million) joining. Facebook Messenger is the most popular messenger app in Canada.
How people use Facebook
Facebook's mission is to give people the power to build community and bring the world closer. People can use Facebook to keep in touch with friends and family and discover what's happening in the world.
On Facebook, people can establish profiles to share photos, interests, news, and personal updates. They can also add family members, friends, and other people they want to be Facebook Friends with. When a user logs into Facebook, they will land on their personal News Feed, which will feature status updates, photos, videos, and more from people they follow.
On Facebook, users can also share and express what matters to them. When people join Groups, they can find others who share their interests. People can also buy or sell new and used items easily on Marketplace.
How businesses can use Facebook
Establish their online presence. Businesses can create Facebook pages and add their contact information, website, and business hours so that customers can reach them easily.
Stay connected with customers.
Businesses can share photos and product updates with posts to help customers stay updated with their offerings.
Showcase products and services. Businesses can highlight their offerings and prompt people to purchase with Facebook shops. With this free tool, companies can upload a store catalog, customize the look and feel of a shop, and sell products.
Create dynamic ads. Businesses can also create ads and manage consolidated campaigns with Ads Manager.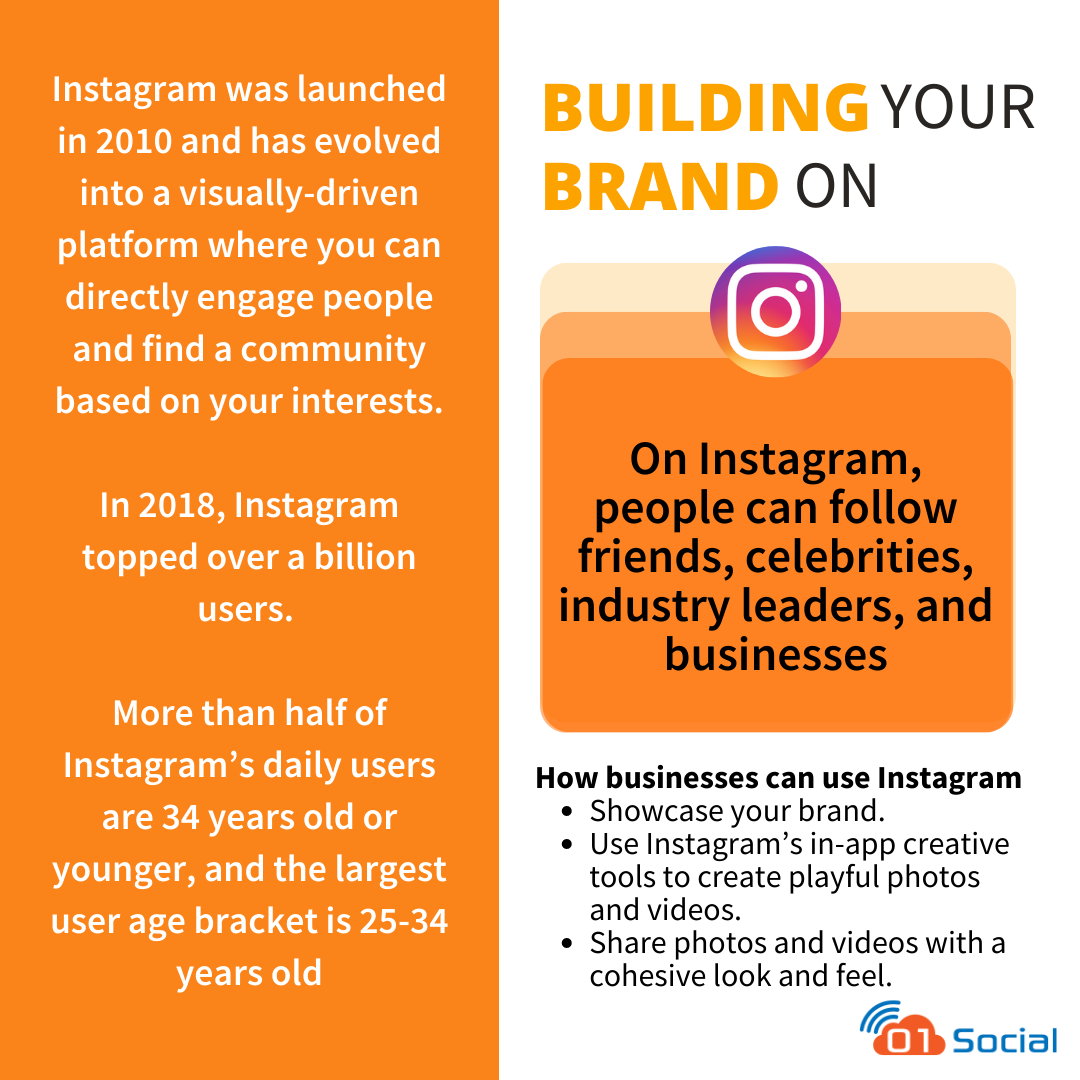 Instagram
Initially launched in October 2010 as a photo and video sharing app, Instagram had transformed itself into an aesthetic platform where its mostly millennial users can directly engage people and find communities based on their interests.
IG, as millennials fondly call it, amassed over a billion users in 2018. More than half of IG users are 34 years old or younger, and the largest bracket is 25-34 years old.
How people use Instagram
On IG, users can follow friends, actors, athletes, painters, coaches, business leaders, brands, and anyone they like to keep up with their lives and events. People can rely on IG's top-notch photo and video filters for their uploads and stories.
Stories appear as a roll of profiles at the top of the news feed with photos and videos that stay for 24 hours, unless they are kept as Stories highlight on someone's profile.
Users can also upload reels, 60-second multi-clip videos with audio and visual effects.
People can also use direct message to connect with loved ones and others who share their interests.
How businesses can use Instagram
Since IG is a visually-driven platform, it gives you the chance to showcase your photography skills to entice the audience. Explore Instagram's in-app creative tools to create vivid and playful photos and videos. You can even establish a theme and look for your profile that all uploads should stick to.  
Engage with your community. 
Stay top-of-mind by regularly uploading fresh photos, videos, stories, and reels.
Use features such as location tags and hashtags to get discovered.  
Set up a shop on Instagram. Businesses can create a digital storefront where followers can browse and learn more about their products.
Instagram also makes it easy to partner with IG influencers such as artists, bloggers, and celebrities on Instagram to promote their products.
Finally, achieve business goals with ads.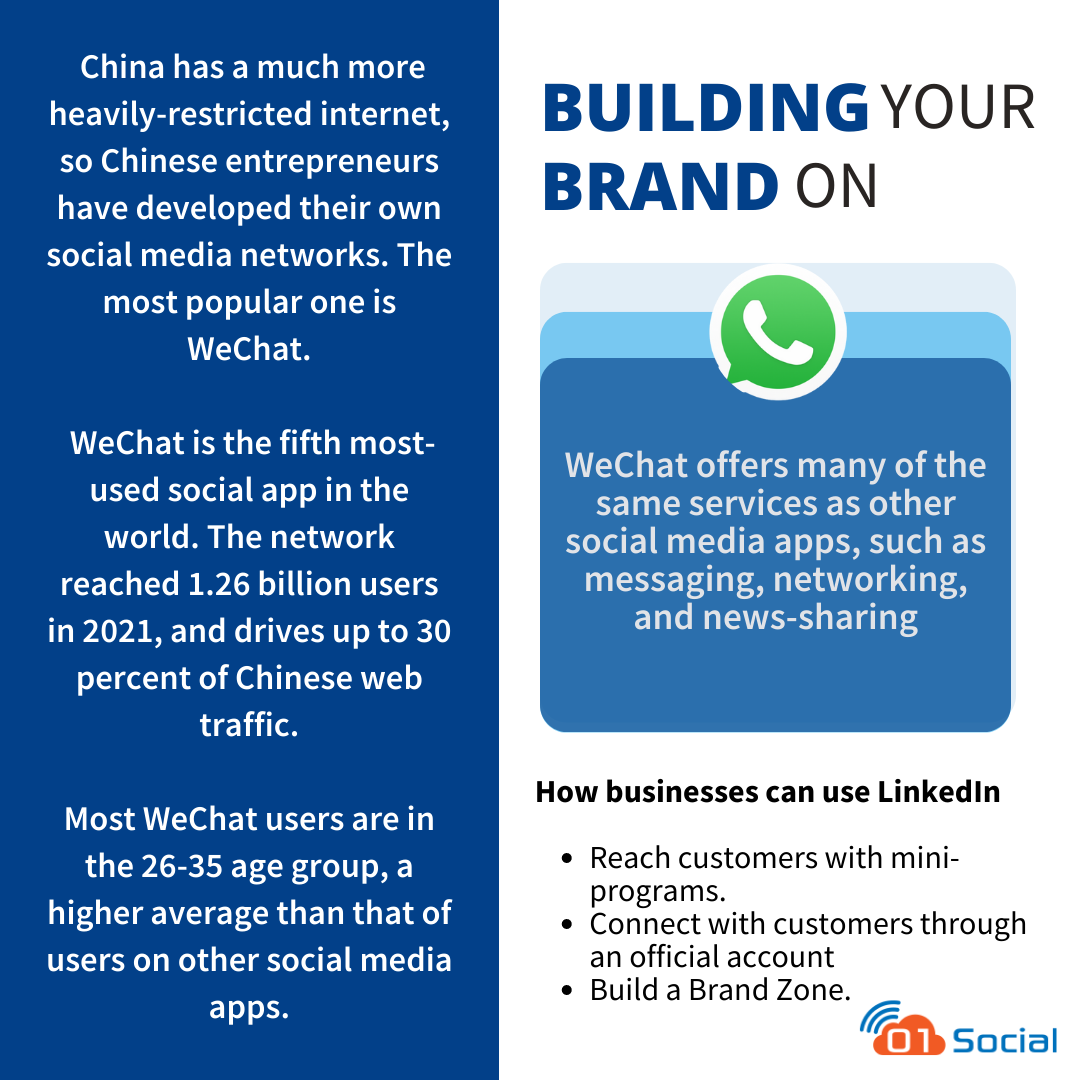 WhatsApp
WhatsApp is among the most popular free messaging apps that let users send messages and place calls and video calls, so long as you have the internet. 
One in five adults in the US has WhatsApp. In Canada, WhatsApp is the second most popular messaging app, with 38.50% penetration (14.20 million users). 
There are approximately 2 billion Whatsapp users across the globe. The app is downloadable in over 180 countries and in 60 languages. Its biggest market is India, with 390 million users.
How people use WhatsApp
With WhatsApp, you only need the internet to keep in touch with family across borders and oceans. You can send text messages, create group chats, and place domestic and international calls.
To keep privacy, WhatsApp messages are automatically encrypted, so not even WhatsApp can see their contents.
WhatsApp lets users send photos, videos, gifs, voice notes, and documents. Users can also post a status with a message for friends to see their availability and know when someone might be available for a chat or call, or post a story that lasts 24 hours.
While Facebook Messenger can do most of these, most users keep a Whatsapp account to connect with family, colleagues, and acquaintances they may want to engage with outside of Facebook. 
WhatsApp for Business
The power of direct messaging is irreplaceable for intimate connections. Customers grow fonder of brands that they can chat for information on hours, pricing, and intimate guidance on products. 
A Facebook study affirms that 2 in 3 global users had messaged a business during the 2019 holiday season.
Brands can create a business profile on Whatsapp and use WhatsApp Business to automate, sort, and quickly respond to messages from customers.
Messaging features for brands
WhatsApp also has features to help brands manage their chats, even when they're offline.
Create a greeting. A greeting automatically welcomes anyone who opens a chat with your business.
Communicate expectations with away messages. If users message your business outside of your working hours, create an automated away message with a rough time frame of when you'll be back.
Save time with Quick Replies. Use quick replies to frequently asked questions like hours, address, contact information, and product availability.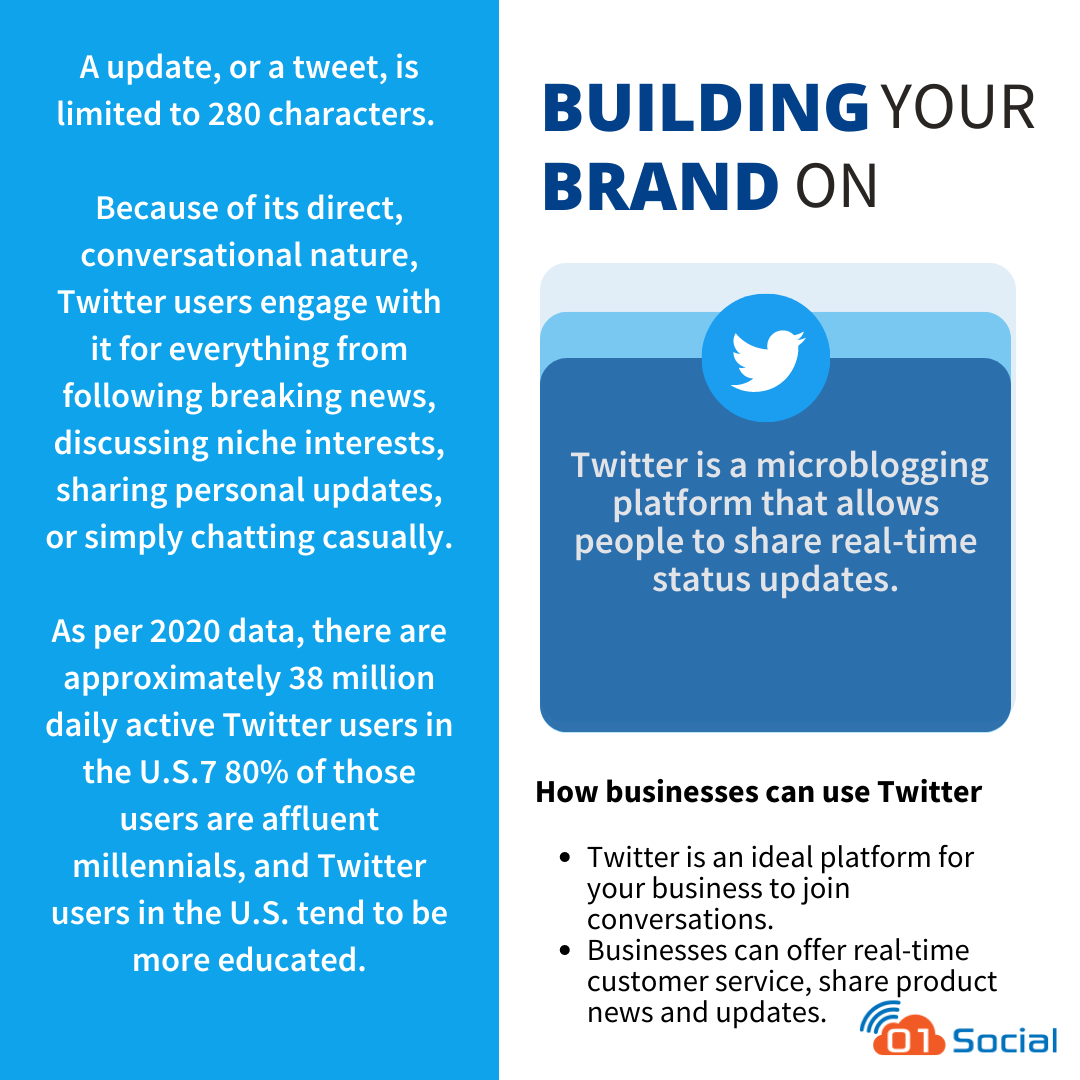 Twitter
Inspired by text messaging, Twitter is a microblogging platform that lets users share live status updates. An update, or a tweet, is limited to 280 characters. Because of its direct, conversational nature, Twitter users engage with it for everything from breaking news, niche interests, intimate updates, or casual chats.
Together with Instagram, Twitter is one platform where celebrities and politicians engage with fans and supporters and express their opinions.
We are still remembering Elon Musk's Twitter tirade and the beef between Taylor Swift and Nicky Minaj.
As per 2020 data, there are approximately 38 million daily active Twitter users in the US, 80% of which are affluent millennials. Twitter users tend to be more educated. Twitter has more male users at 70.4%, and women make up 29.6%.
How People and Brands Use Twitter
People can curate Twitter timelines by following news sites, celebrities, authors, CEOs, NGOs, — anyone they like.
Twitter has the busiest timeline. Active users tweet multiple times a day, so your timeline looks different every time your tweet. 
Engage with Others 
Twitter is a great place for quick interactions. You can like people's tweets and "retweet" them. Users can also comment on or reply to specific tweets. 
Even Elon Musk engages in short opinion exchanges. With famous figures and global brands having a presence on the platform, Twitter provides celebrities and companies a venue for direct interaction. 
Twitter also has a direct message function for private conversations.
Use hashtags
Another main feature of Twitter is hashtags. Hashtags collect all related tweets under a single theme. Click on #popcorn, and you can view all popcorn-related tweets.
Or you can follow #Boston if you want to know what's happening in Boston.
Hashtags are a way for users to have a concentrated conversation around one specific topic, and many companies and events curate hashtags specifically so their followers can interact.
Twitter is an ideal platform for your business to engage with your audience and join the conversations they're having.
Provide Customer Care
Through Twitter, brands can offer live customer service, share product news and updates, and intimately engage with customers.
This may include direct interaction and conversation by asking questions, or responding to followers' comments in light, casual ways.
Engage followers. Twitter also gives companies a chance to discover what topics are relevant to the moment. This way, companies know how to engage followers with relevant content, and update their followers with any breaking news or changes.
Additionally, by showing off your business's personality on Twitter, you can help spark interest in your brand among new audiences.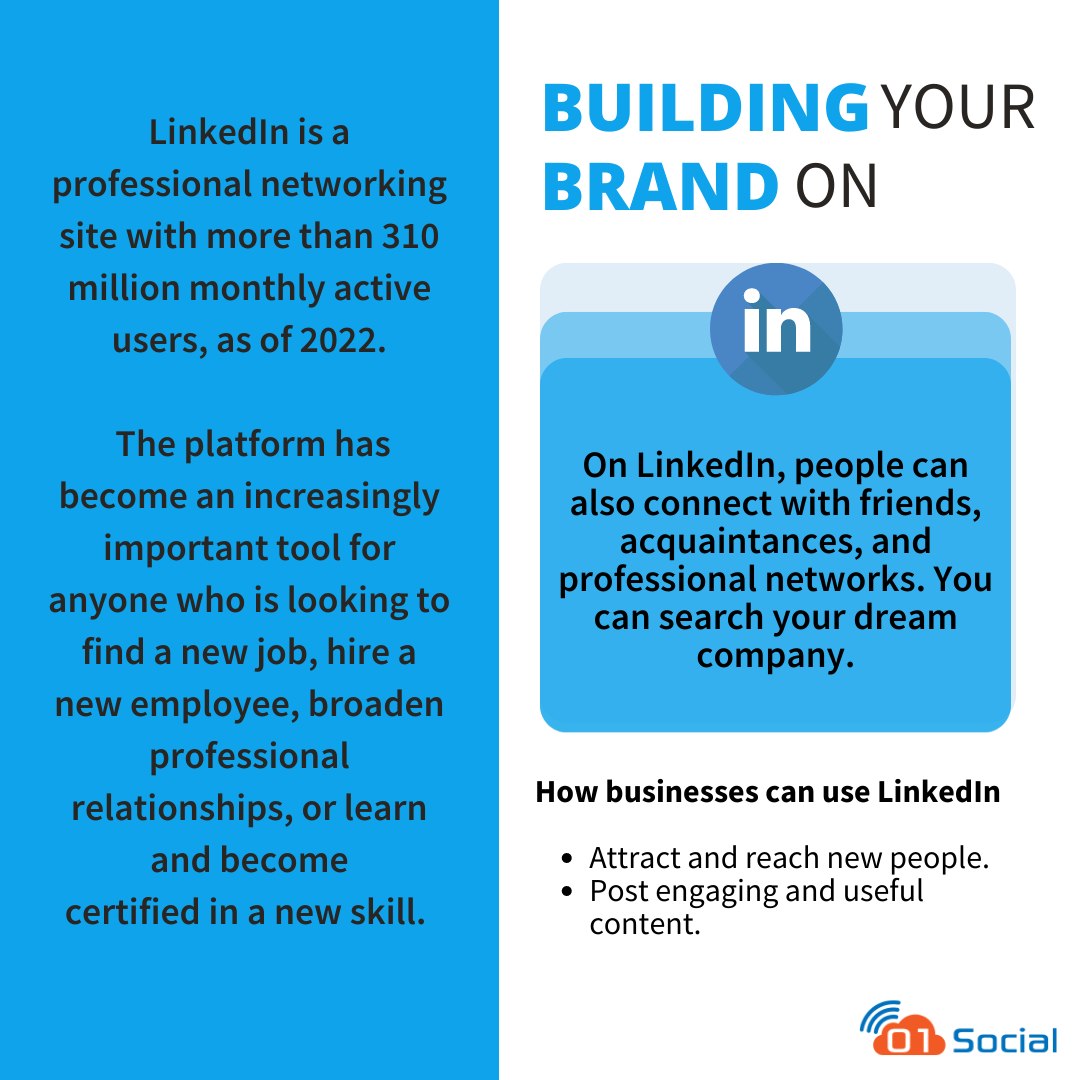 LinkedIn
LinkedIn is a professional networking site with more than 310 million monthly active users as of 2022. The platform has become an increasingly important tool for anyone looking to find a job, hire employees, broaden professional relationships, or become certified in a new skill. 
Users can follow companies and get notified when new jobs are posted. Ninety-five percent of polled recruiters use LinkedIn regularly to post jobs. Recruiters can also use LinkedIn to search for users with relevant job titles and experiences.
How people use LinkedIn
On LinkedIn, users can also engage with friends, acquaintances, and professional networks. You can search for your dream company or role to engage with new users and learn more about what they do.
If you have a second-degree connection with someone you would like to meet, you can ask your mutual connection to introduce you. You can also join groups specific to your interests and industry.
This will help you get acquainted with users who share your passions and stay on top of the latest trends in your field.
Joining the right networks with industry leaders and similar companies can help brands stay on top of industry practices and standards.
How brands can use LinkedIn
LinkedIn is an excellent platform for B2B and B2C marketing. One of the wonderful things about the sizable social media platform with a global reach is that you get to see people's professions, industries, and networks.
Attract and reach new people. LinkedIn is considered one of the best social networks for brands to attract new customers and followers. Given LinkedIn's massive user base across 200 countries and territories, and because users are already looking to engage with brands, industries, and ideas, LinkedIn can also serve as a great advertising platform. 
Businesses can post and advertise job listings to broad yet strategic audiences. To reach the right audience, you should target by job function and level, industry, and company size.
Post engaging and valuable content. Businesses can control the narrative around their brand through LinkedIn posts and articles. 
Posts appear in the news feeds of users in your network. By sharing updates on their business stories or insights on industry practices regularly, brands can establish themselves as reputable pioneers in their industries. They can also establish relationships with complementary brands by liking and commenting on other businesses' posts.
WeChat
Because China has a much more heavily-restricted internet than the US and European countries, Chinese entrepreneurs have developed their own social media networks. The most popular one, WeChat, is "China's answer to Facebook."
As of 2019, WeChat is the fifth most-used social app in the world. The network reached 1.26 billion users in 2021 and drives up to 30 percent of Chinese web traffic. Most WeChat users are in the 26-35 age group, a higher average than users on other social media apps.
How people use WeChat
Like many social media apps, WeChat offers messaging, networking, and news-sharing. You can post to your Moments feed with a picture, video, or text. You can like, comment on, and share posts, and adjust privacy settings to curate who can see your posts.
Pay with WeChat Pay. One of the most popular services on WeChat is WeChat Pay, an e-wallet that lets users transfer money to other users and pay for services and products. Customers can pay brands through WeChat Pay by entering their payment information or directly scanning a business's unique QR code.
Play around with Mini-Programs. WeChat also serves as a gateway to other services like gaming, ride-sharing, shopping, banking, and more through mini-programs or native apps built within WeChat.
How brands can use WeChat
Reach customers with mini-programs. Businesses can make their services and products available on WeChat without investing in creating fully-formed apps using mini-programs. Because mini-programs are quick to load, they are great for areas with lower data plans. People can access mini-programs for offline transactions (such as paying for gas at a gas station) by scanning a QR code at a physical location. As mini-programs are seamlessly weaved into WeChat, users can easily share items and shops with their friends or discover shops through links in the articles influencers share.
Connect with customers through an official account. In addition to this, brands can create official accounts, similar to how they can create business pages on Facebook.
These accounts let brands push out content to their users, have website-like functionality on their account page, and offer customer service interaction. The image to the right shows Facebook's official account.
Through this account, users can learn how to use Facebook to increase their sales.
Build a Brand Zone. Brands can also create a brand zone, a hub where a brand can provide a central overview of all of its WeChat activity. For instance, it can list its different mini-programs in its brand zone. This is a way for brands to get exposure to users that don't follow their official account. Brand zones come up on top of the search results in searches for the brand.
Advertise on the Moments feed. Finally, brands can advertise on users' Moments feed. Businesses can target users by location, interest, and various demographics.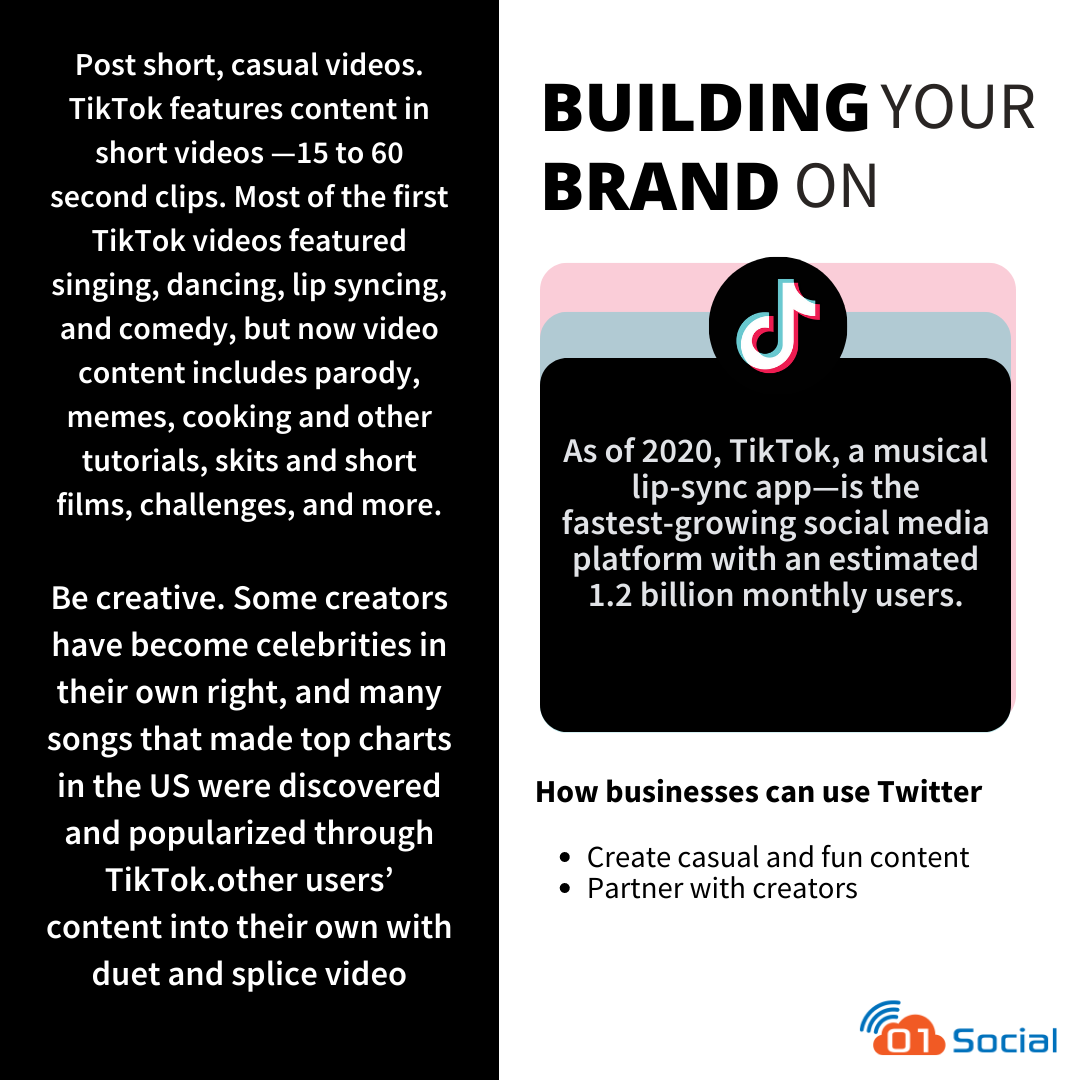 TikTok
As of 2020, TikTok, a musical lip-sync app—is the
fastest-growing social media platform with an estimated 1.2 billion monthly users.
Tik-Tok is a Gen Z favorite. Its users are extremely young. Sixty-nine percent of users are between 13-24, and millennial usage is also increasing. Its audience is split most heavily between China, India, and the US, with more than 50 percent of the app's users in China.
How people use TikTok
Post short, casual videos. TikTok features content in short videos —15 to 60 second clips. Most of the first TikTok videos featured singing, dancing, lip syncing, and comedy, but now video content includes parody, memes, cooking and other tutorials, skits and short films, challenges, and more.
Be creative. Some creators have become celebrities in their own right, and many songs that made top charts in the US were discovered and popularized through TikTok. TikTok also encourages interaction through typical means such as likes, comments, and shares and by allowing users to integrate other users' content into their own with duet and splice videos.
How brands can use TikTok
Create casual and fun content. For brands to successfully use TikTok, they need to ensure they understand TikTok's culture. Users looking for fun, casual, and personal videos, so think about creating videos that showcase the people behind the business. Businesses can share tutorials on using products, or even participate in popular hashtag challenges. 
Partner with creators. They can also partner with popular creators to feature their products, even if the content isn't directly related. Using popular hashtags can help brands get discovered by new users, and brands can also raise brand awareness by creating their own hashtags.
Snapchat
Snapchat is a photo-sharing app with over 530 million monthly active users.
Fifty-four percent of Snapchat's users are female, and Snapchat is popular amongst younger demographics, including 69% of teens.
India is Snapchat's biggest market, followed by the US and France.
While Snapchat began as an app for sharing photos with friends, it has since introduced filters, games, and a Discover page. 
Users can follow celebrities or brands, news sites, or channels curated to include videos related to certain themes, like DIY projects, magic, or comedy.
How people use Snapchat
Fleeting photos and images. Unlike other photo-sharing apps, the photos and videos you share on Snapchat are fleeting. Once the recipient views a photo or a video, it disappears. 
In one of their earliest blog posts, the founders expressed that they didn't want their users fidgeting about untagging themselves in photos from years ago prior to a job interview or fixing up images to make them look perfect.
They wanted to create a more authentic, authentic connection for their users. They also appreciate the rare beautify of the ephemeral nature of human interaction—the interaction sparks in the moment and doesn't leave a trace.
Augmented reality filters. Snapchat has also introduced augmented reality into many of its lenses and filters, enhancing photos and videos with computer generated elements. Snapchat reports that over 250 million daily active users engage with augmented reality every day on average.
How brands can use Snapchat
Businesses should look at Snapchat as a way to engage with their audience, gain new audiences, and provide unique content they might not be able to on other platforms.
Create content for Stories. With Stories, brands can create fun content by posting tutorials, videos, and more. Stories are a collection of Snaps visible to followers for 24 hours. Because brands can use Stories to string together a series of snaps, they're not limited to one-and-done videos. It's a good way for users to engage in a zany and playful fashion.
Connect using augmented reality and Snapcodes. While brands can use standard advertising to reach new audiences, Snapchat provides other options to interact with users.
For example, brands can consider creating lenses and filters. Filters overlay an effect on images, and lenses are augmented reality animations that can recognize faces and alter or add effects to them. Customers can also find Snapcodes at retailers or events to "unlock" certain filters or lenses.