Social media has become necessary for people around the world to create and share content which are text-based posts, photos, and videos. It allows users to socialize and conduct business. There are many platforms like YouTube, Facebook, Instagram, etc. 
Social media use is both a blessing and a curse. It engages people to maintain personal relationships with family and friends. Cyberbullying, sleep disorders, loneliness, and bad mental health are some risk factors associated with the usage of social media.
Social Media in Canada
Social media has been a ubiquitous part of the Internet landscape since around 2005, and Canada isn't an exception to this rule. One of the world's most popular social media platforms, Facebook, was launched in Canada in 2004 and quickly became one of the most dominant social media sites on the Internet. That said, it's important to understand that despite this global popularity, there are still plenty of social media platforms yet to be discovered and put to use by Canadian entrepreneurs and consumers alike.
For the Canadians, social media is the most liked online activities. Social media use in Canada is prevalent across all age groups. It is part of their daily routine. 95% of Canadian adults use at least one social media platform. The most popular social media in Canada for the year 2022 is Facebook.
With more than 90% of Canadians using social media platforms on a regular basis, it's no secret that social media has made an impact on the way people communicate, interact, and get their news.
Digital Culture in Canada at a Glance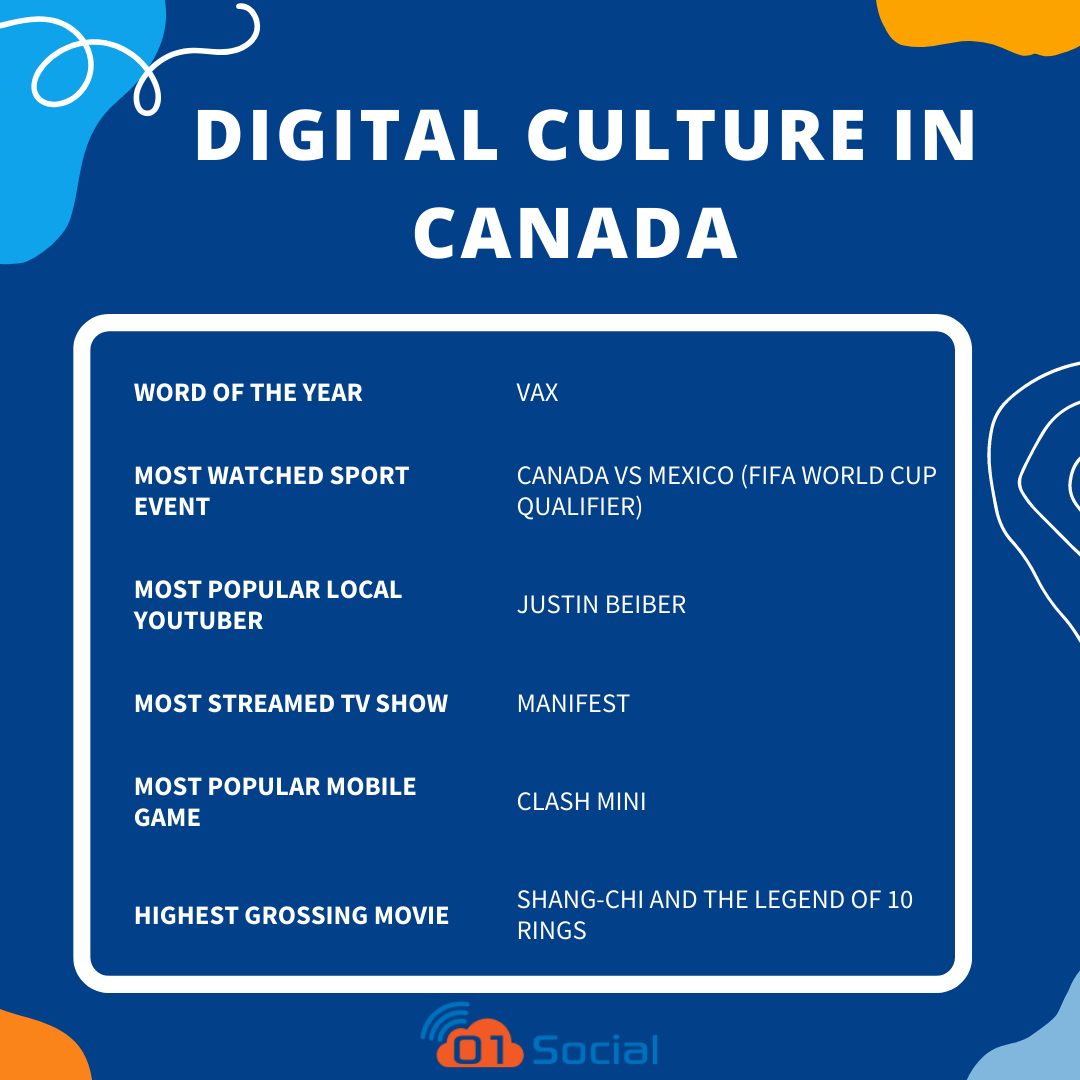 Source: Data Portal
Social Media Statistics of Canada in 2022
Social media has revolutionized the way many of us do business, stay connected to family and friends, and even read the news and watch movies. Considering that social media use in Canada has grown significantly in the last three years alone, it's time we take a look at where social media stands now and what can be expected from it in the future.
The number of Internet users in Canada has grown to a whopping 36.89 million. There is an increase of 0.9% when compared with the previous year. The Canadian population has taken to social media like never before. 96.5% is the internet penetration rate here. Canadians, on average, spend about 1.53 hours on social media daily. 
In Canada, the number of social media users in 2022 has increased to 33.30 million due to deep penetration of internet connectivity among people. The annual growth in active social media users is 3.4%, an increase of 1.1 million from 2021. Now, social media has become one of the extremely important parts of daily internet usage in Canada. The people of Canada are gradually switching from desktop to mobile devices like smartphone or tablet.
Social media in Canada acts as a platform to gather, share information and express one's opinion. New topics and conversations began to trend regularly on social media in Canada.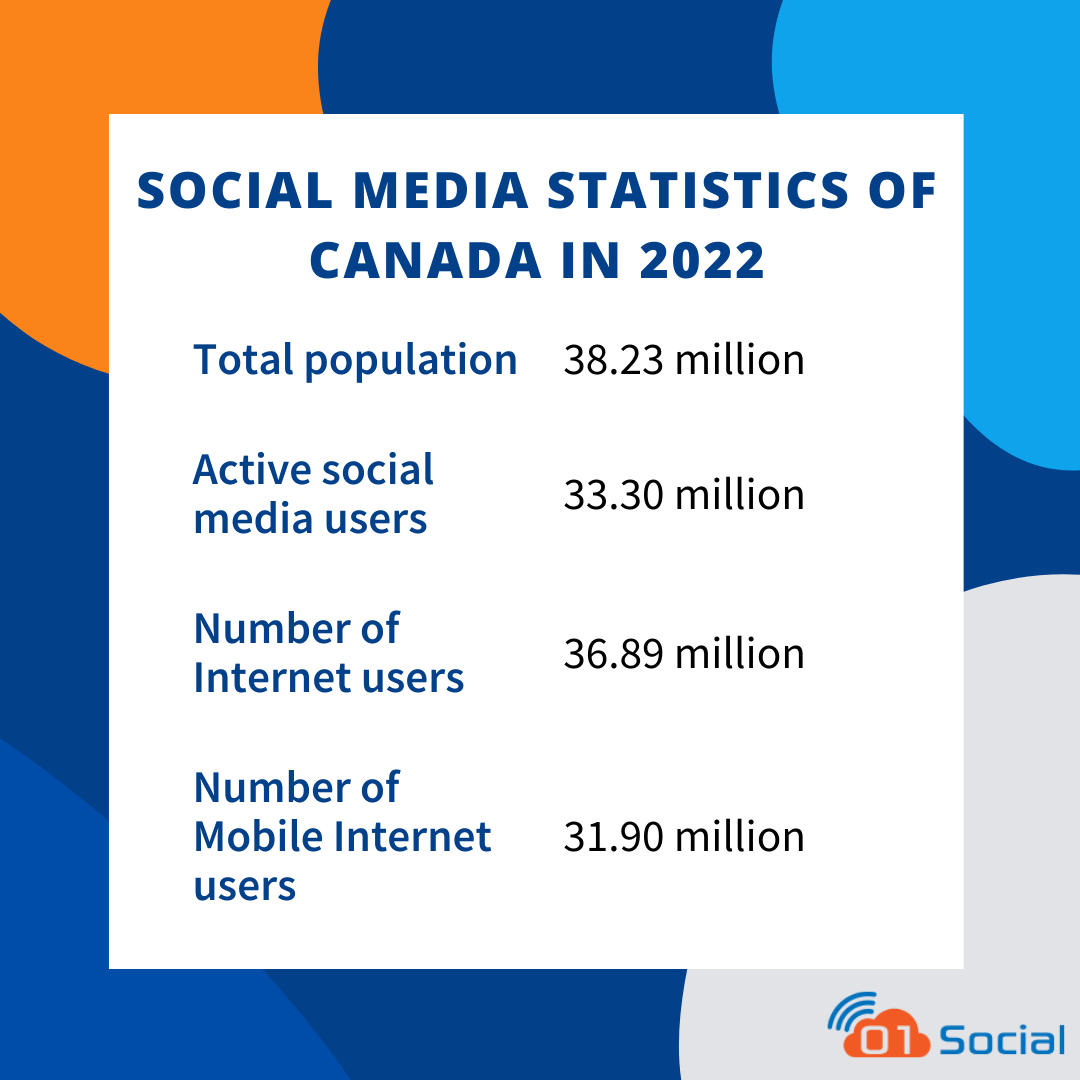 Nowadays, the price of smartphone have been reduced drastically, and that has increased the usage of mobile smartphones across Canada. The availability of quick internet at very low prices is another factor for the huge rise in the adoption of social media in Canada. The number of Mobile Internet users has reached 31.90 million, which is 86.5%.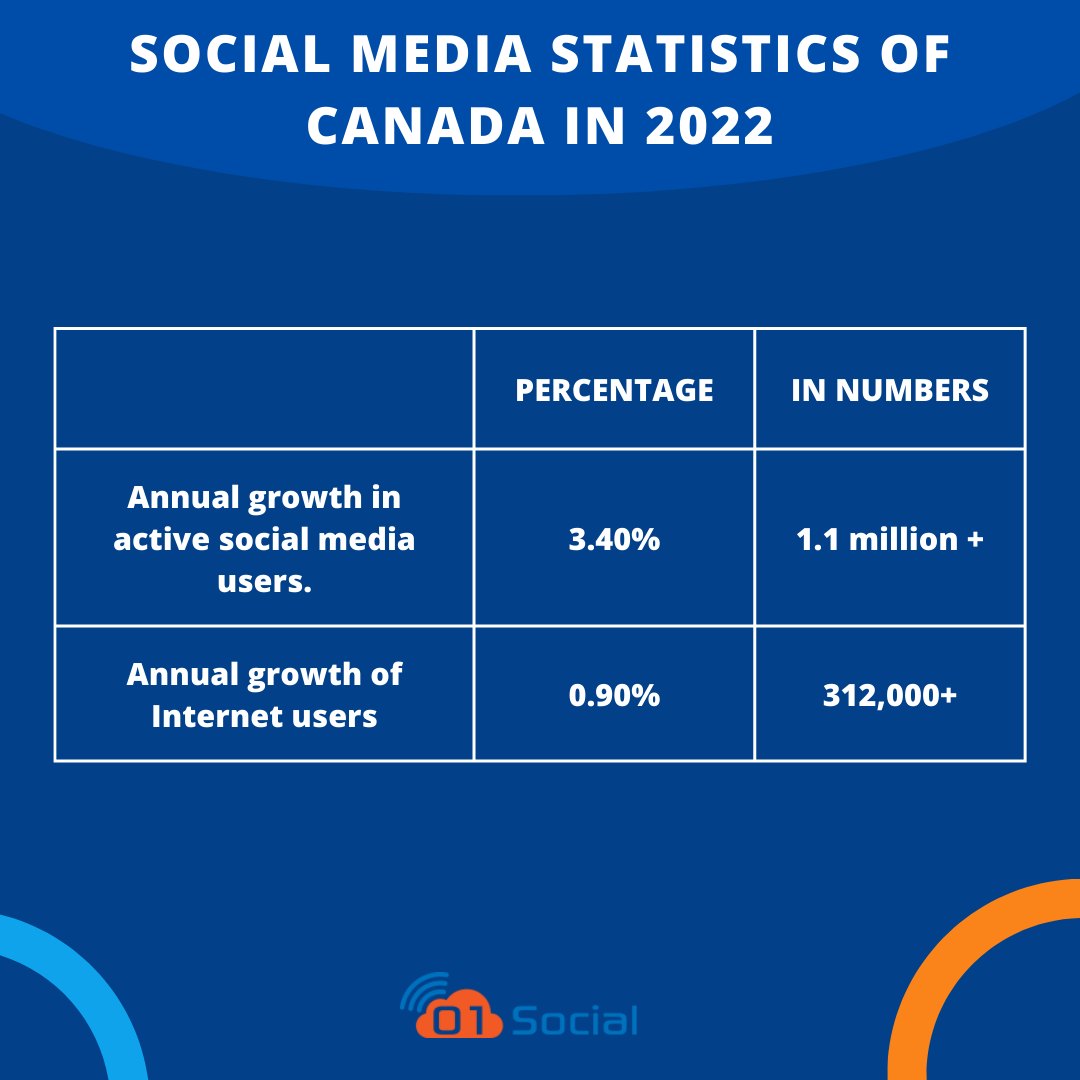 According to the social media user's statistics, the annual growth in active social media users is 3.4%, with more than 1.1 million new users added last year. With this, different trends on social media in Canada will increase in the coming days. The annual growth of Internet users is 0.9% with another 312,000+ new users.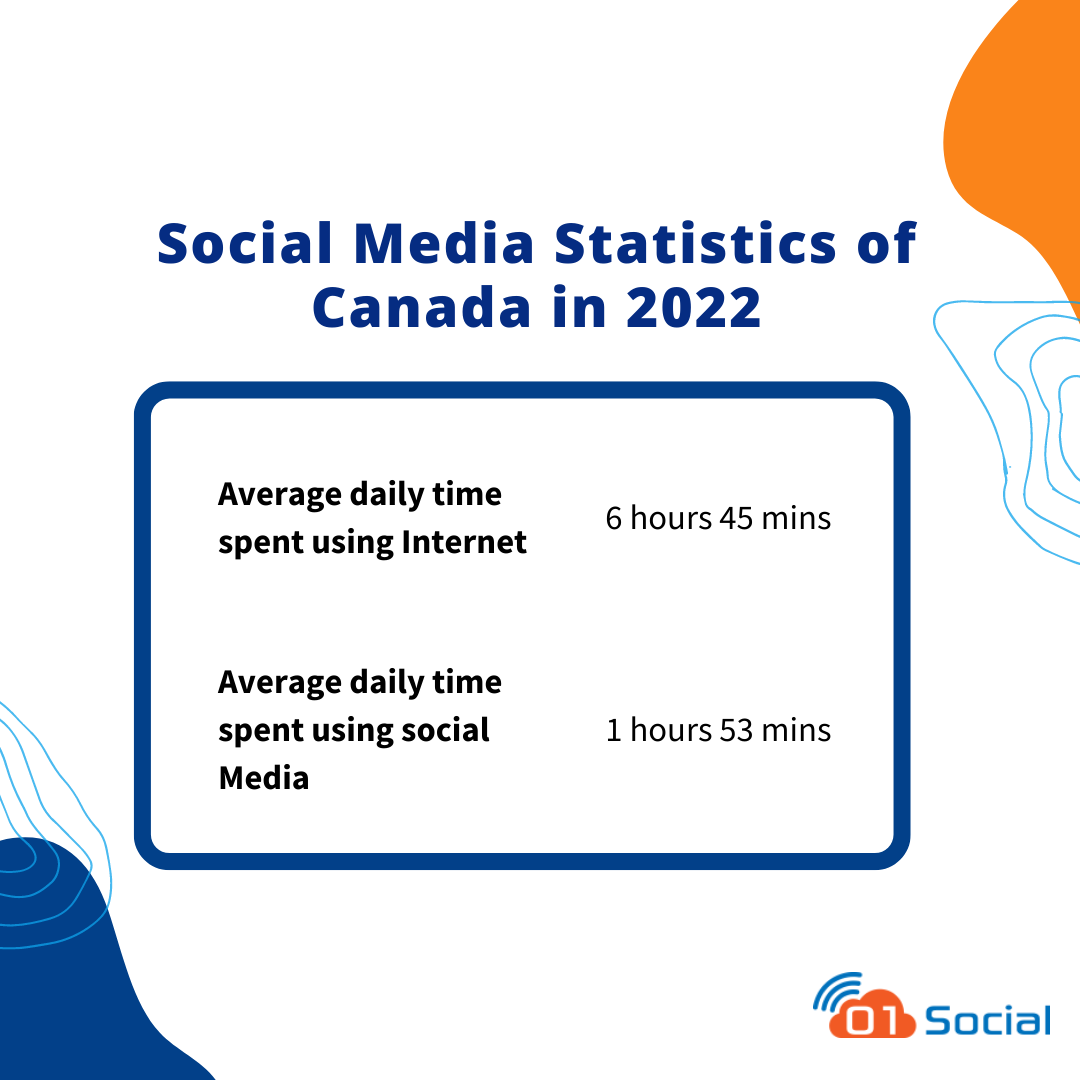 In Canada, the average daily time spent using the Internet is 6 hours 45 mins, of which 1 hours 53 mins of the daily time is spent for social media usage.
Most Used Social Media Platforms in Canada 2022
With so many social media networks out there, it can be hard to keep track of them all, especially since they all have different rules, methods of operation, and user bases. If you're interested in getting involved with social media but aren't sure where to start, Canada is currently going through some interesting changes that make it a great place to start your online presence. This article will give you the rundown on the most popular social media platforms in Canada today and tell you why each one matters to Canadians and businesses alike.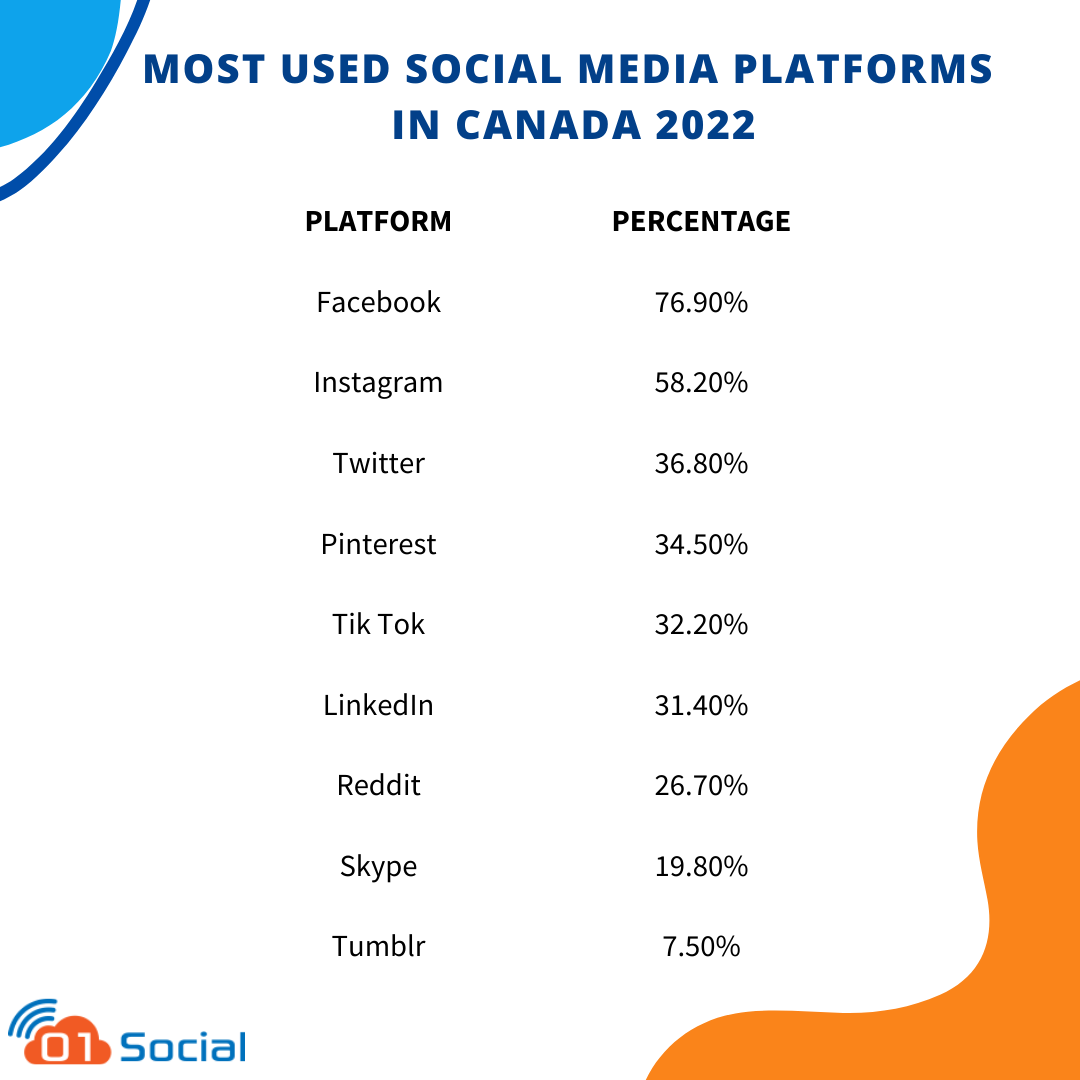 In Canada, Facebook is the most used social media platform in 2022 with 76.90% of the internet users (28.37 million) joined it. Canada is one of the biggest market for Facebook. It is evenly liked by the political class as well as the masses in Canada. Facebook remains a commanding force for many years to come. Many top brands in Canada use Facebook for engaging with their customers.
Second on the list is Instagram, which has 58.20% of social media users in Canada. A large number of Instagram's users in Canada are young people, especially teenagers. Meta is the parent company of Instagram, which paid $1 billion to buy it in 2012. Instagram has grown into a source of income for creators and businesses.
A few other social media platforms that are popular in Canada are microblogging site Twitter (36.80% penetration) and Pinterest, an image sharing site (34.50% penetration) followed by TikTok (32.20%). Then comes the business and employment-oriented site, LinkedIn (31.40% penetration) and Reddit (social news aggregation site) with 26.70% penetration. It is followed by Tumblr (7.50% penetration).
*Note: YouTube was not offered as an answer option in the survey.
Popular Messenger Apps in Canada 2022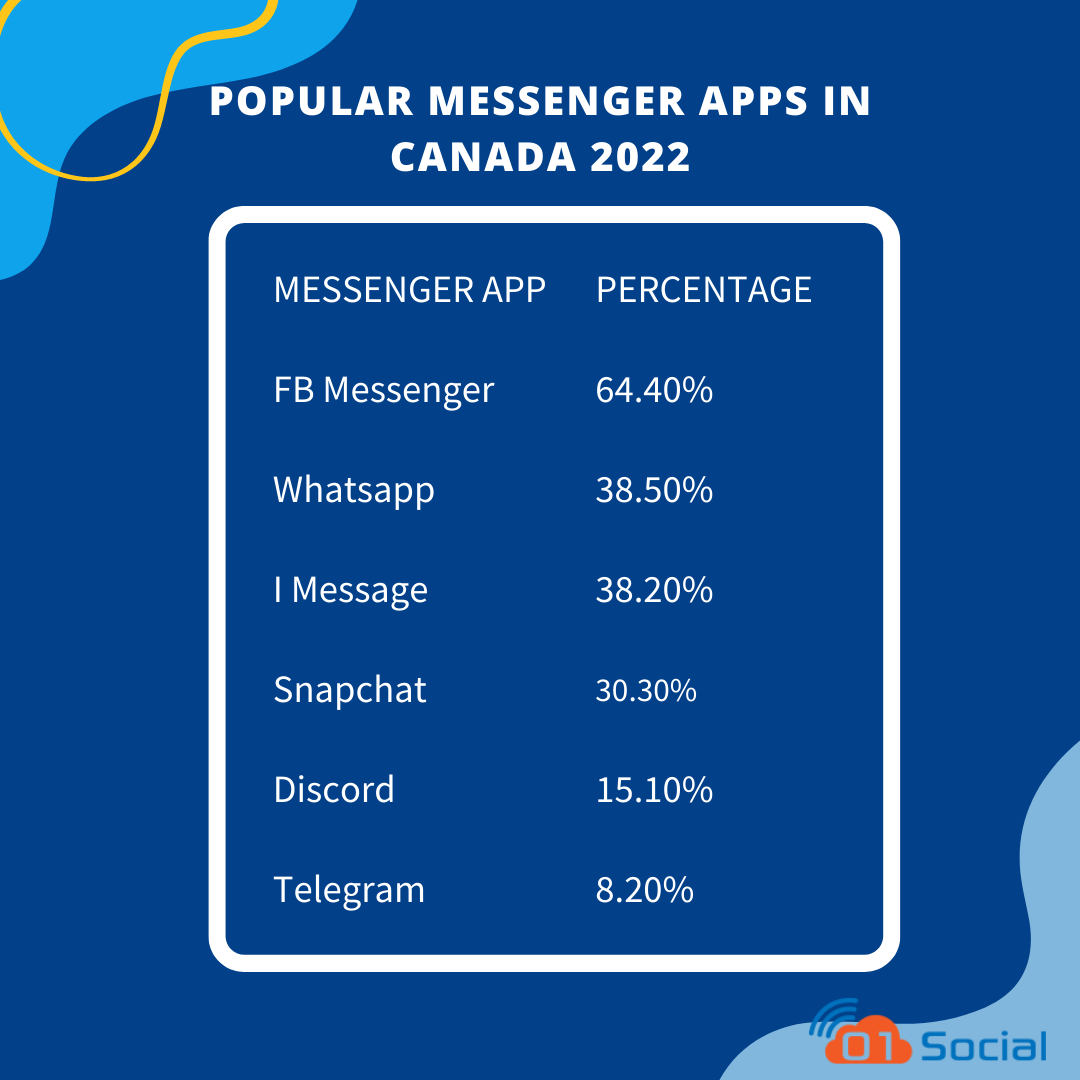 FB Messenger is the most popular messenger app in Canada. Facebook-owned FB Messenger has 64.40% or 23.76 million of the country's total users. The second most popular on the list is again Facebook owned WhatsApp, with 38.50% penetration (14.20 million users). The third is I Message, an instant messaging service developed by Apple Inc., with 38.20% penetration. Fourth is Snapchat, which is really popular among teenagers, has 30.30% users. Forth in the list is Discord, a VoIP, instant messaging and digital distribution platform, with 15.10% penetration followed by Telegram (8.20% penetration).
Most Used Devices in Canada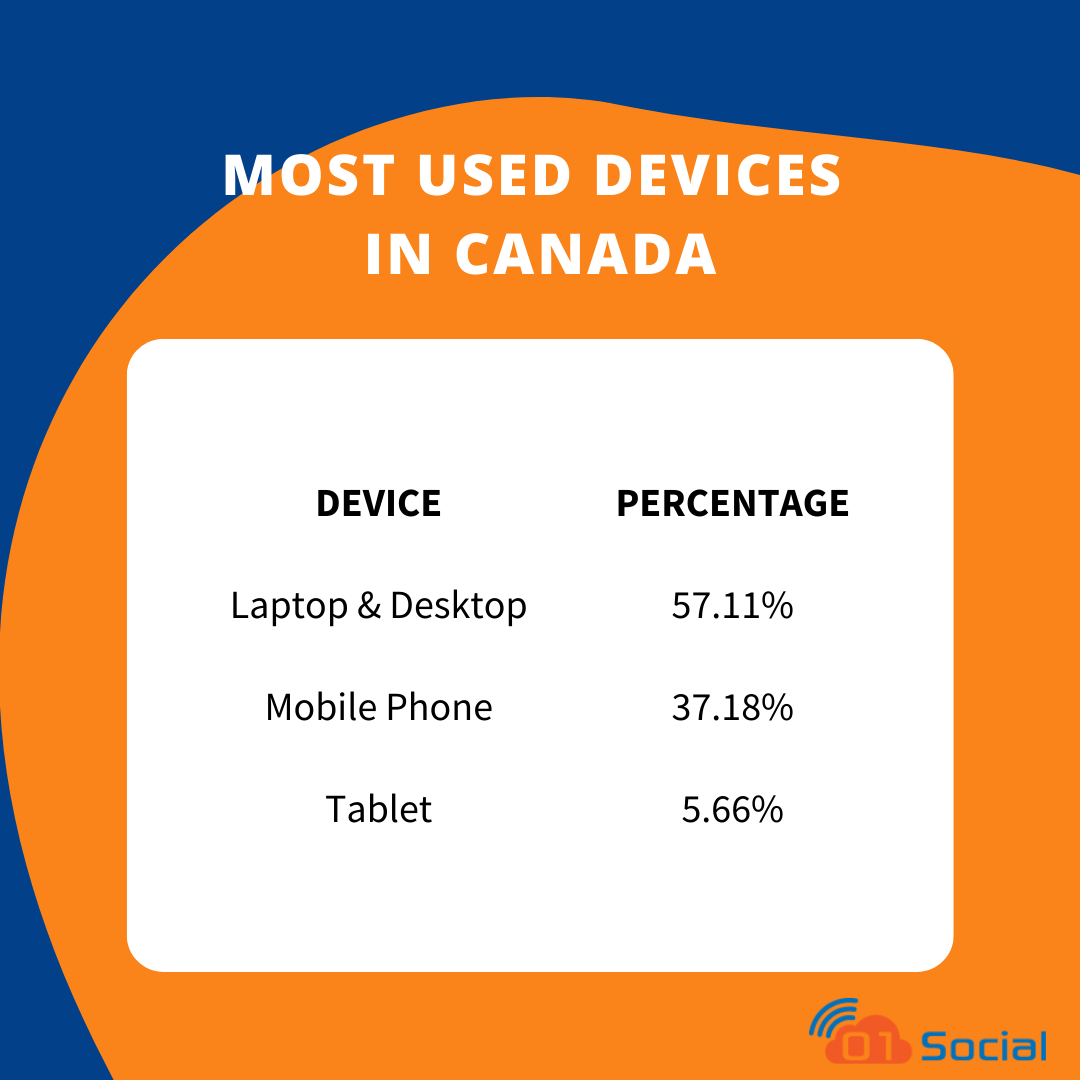 In 2022, the most dominant device in Canada is the Laptop & Desktop, with a share of 57.11%. The next device on the list is Mobile Phone with 37.18%, followed by tablet with 5.66%.
Search Engine Market Share in Canada 2022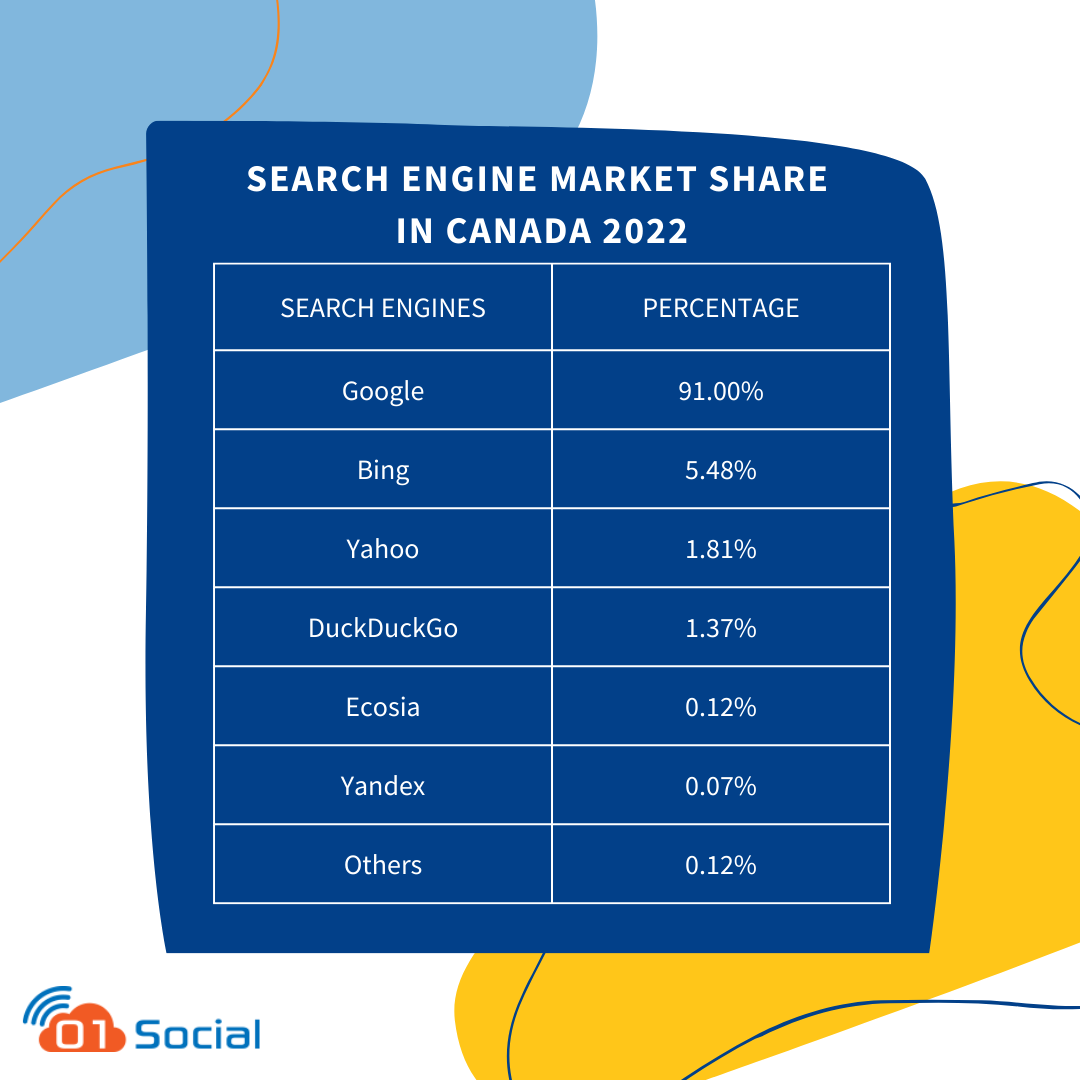 In 2022, Google is the most popular search engine in Canada. The share of Google is 91% which is clearly ruling the market. Bing is second most popular with 5.48%. Other search engines used in Canada are Yahoo (1.81%), DuckDuckGo (1.37%), Ecosia (0.12%), Yandex (0.07%), Others (0.12%).
Most Popular Browser in Canada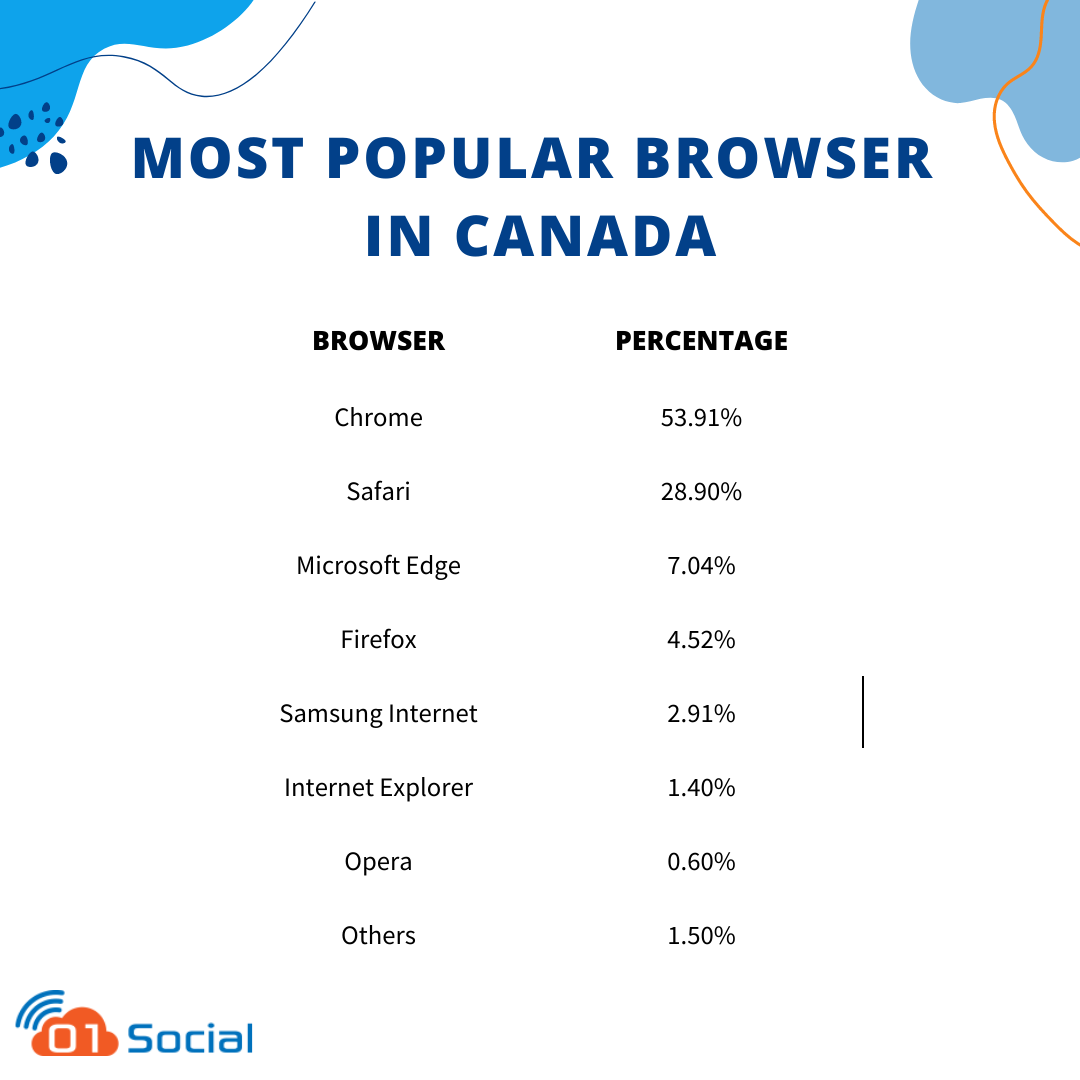 Predictably, Google developed Chrome is the most popular browser in Canada, with a share percentage of 53.91. Safari is second on the list with 28.90% market share, followed by Microsoft Edge (7.04%) and Firefox (4.52%). This is followed by Samsung Internet (2.91%), Internet Explorer (1.40%) and Opera (0.60%).
Most Visited Websites in Canada in 2022 (Alexa)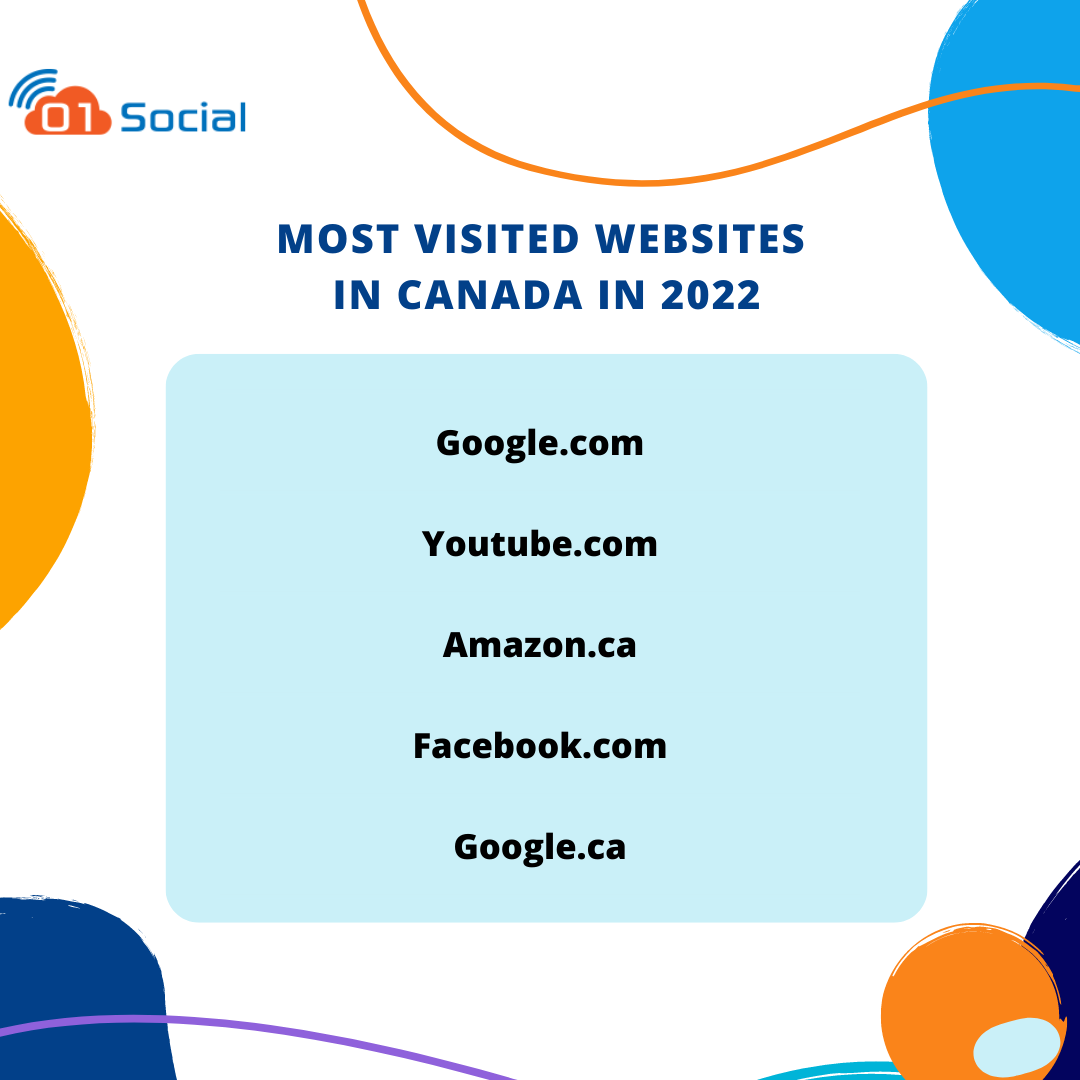 According to Alexa website, the top website in Canada is Google.com. Second, on the list is Youtube.com followed by Amazon.ca, Facebook.com and Google.ca.
Top Mobile Apps in Canada 2022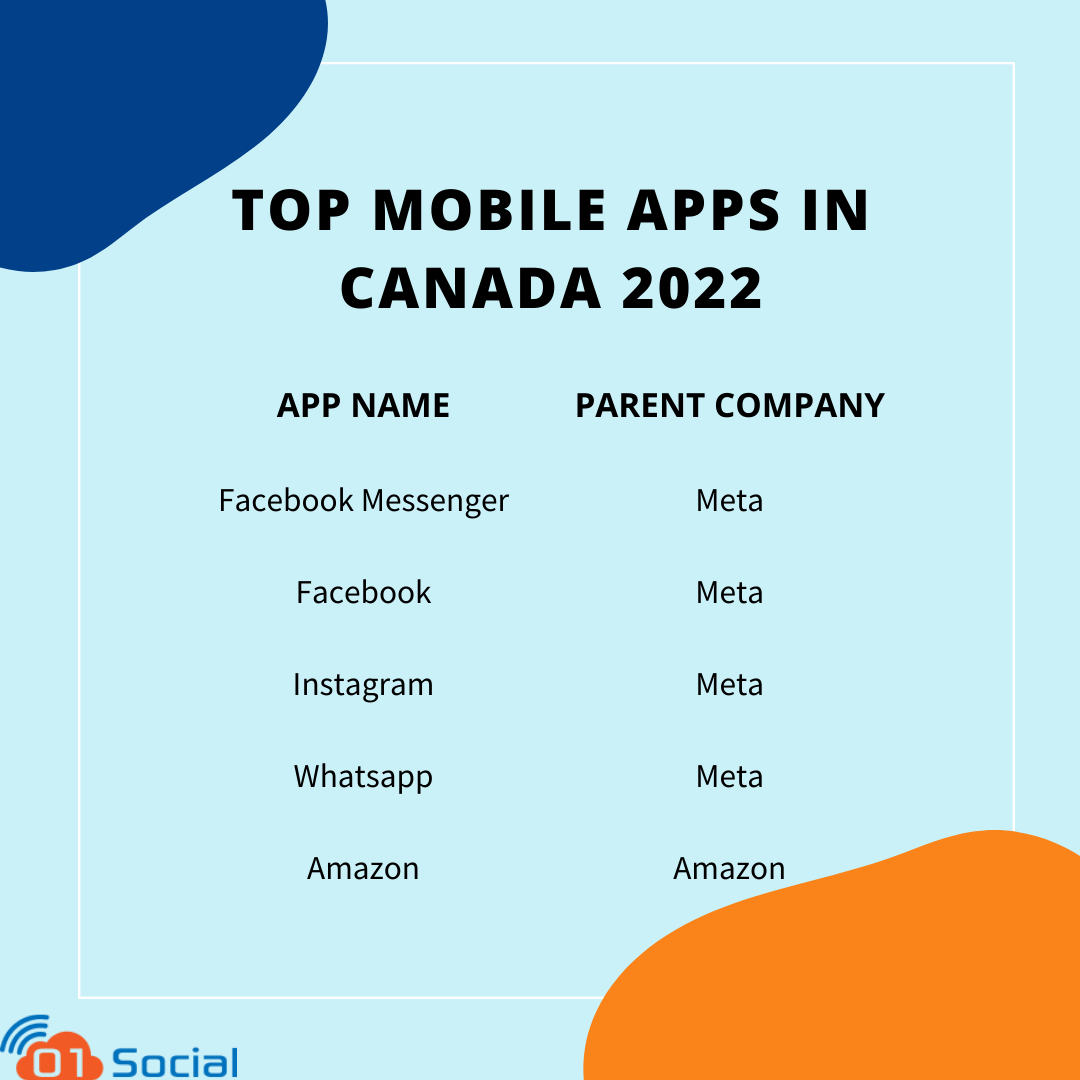 The top mobile apps in Canada are Facebook Messenger, followed by Facebook, Instagram, Whatsapp, and Amazon. Four of the top five mobile apps are owned by Meta.
Internet & Mobile User Statistics of Canada 2022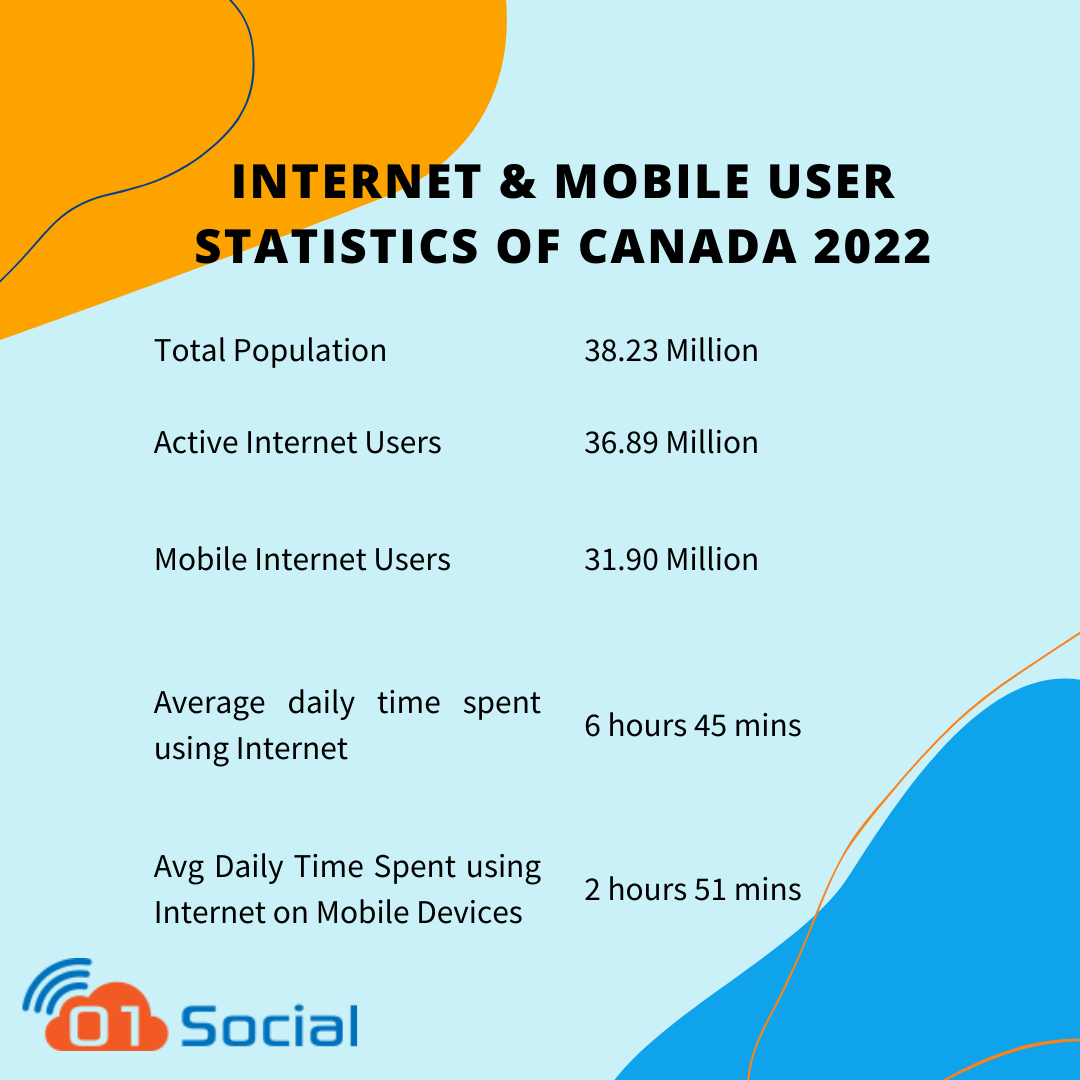 Canada has an Active Internet Users number of 36.89 Million, which is 94% of the population of Canada. 31.90 Million are Mobile Internet Users, which is 85.50%.
Internet Connection Speed in Canada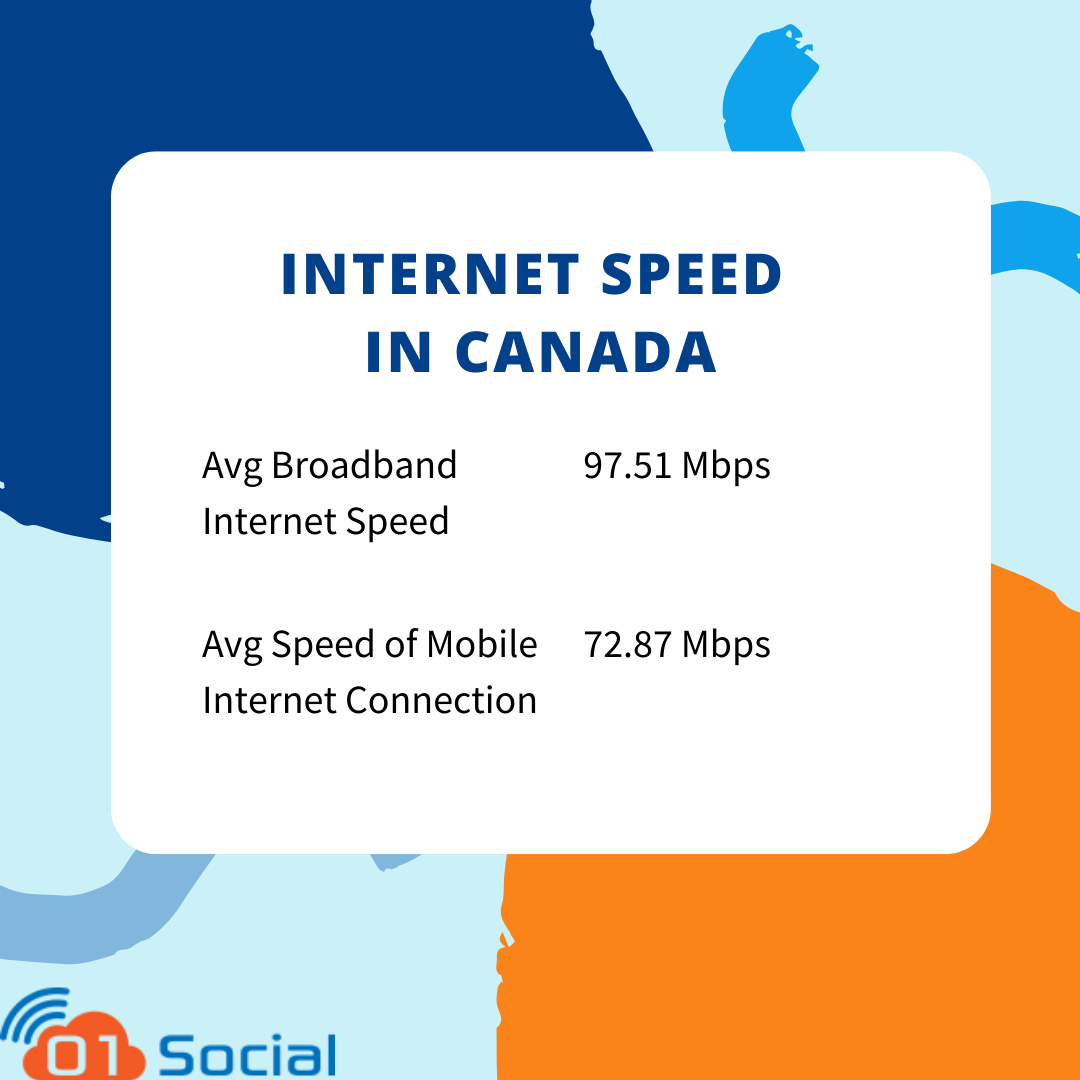 The average broadband internet speed is 97.51 Mbps, which is a 27.6% increase when compared with previous year. The average speed of mobile internet connection is 72.87 Mbps. When compared to the previous year, there is a growth rate of 11.1%.
Mobile Connections in Canada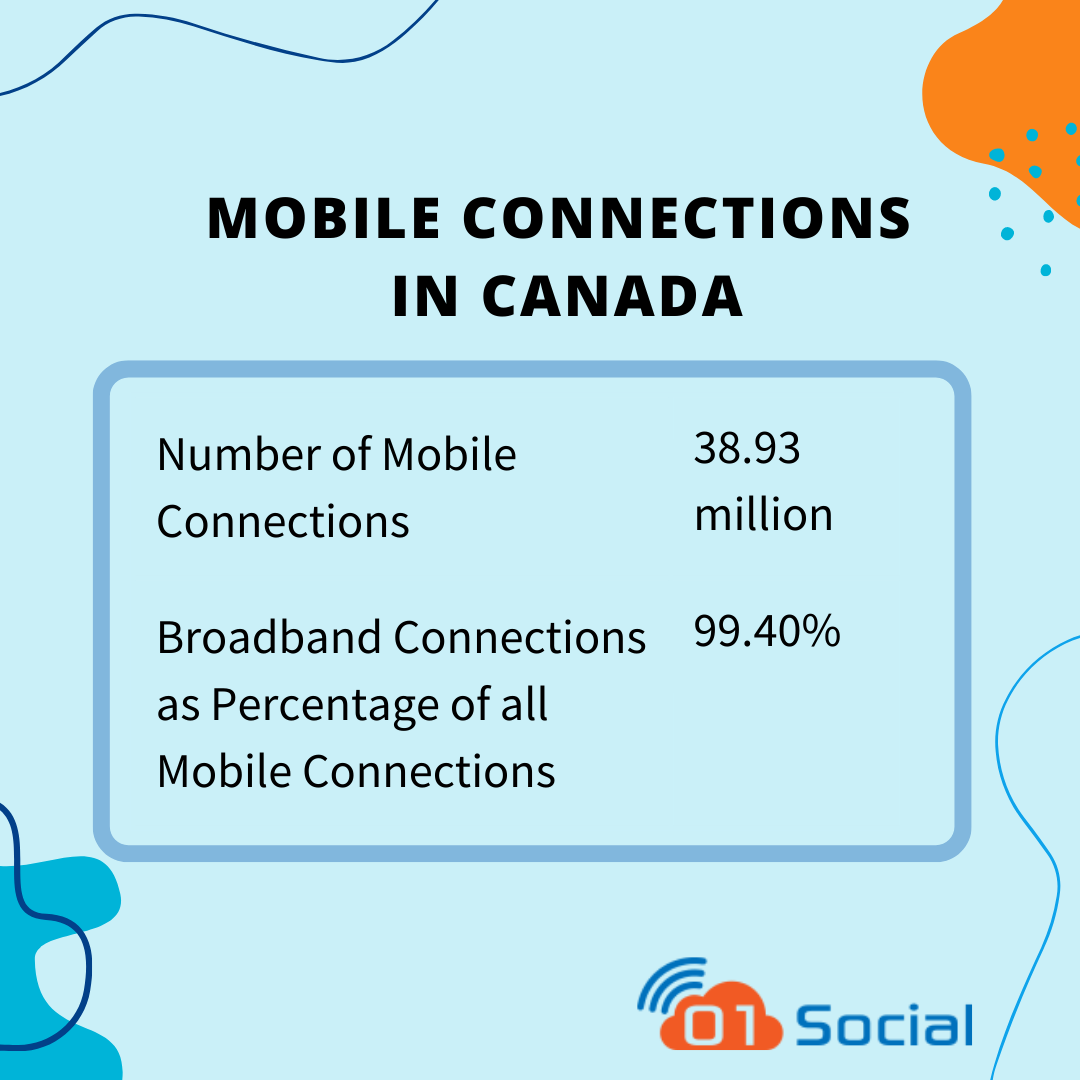 The number of mobile connections in Canada are 38.93 million. The mobile connection as per the percentage of total population is 101.8%. There is an increase of 4.1% or 1.6 million extra connections added from the previous year.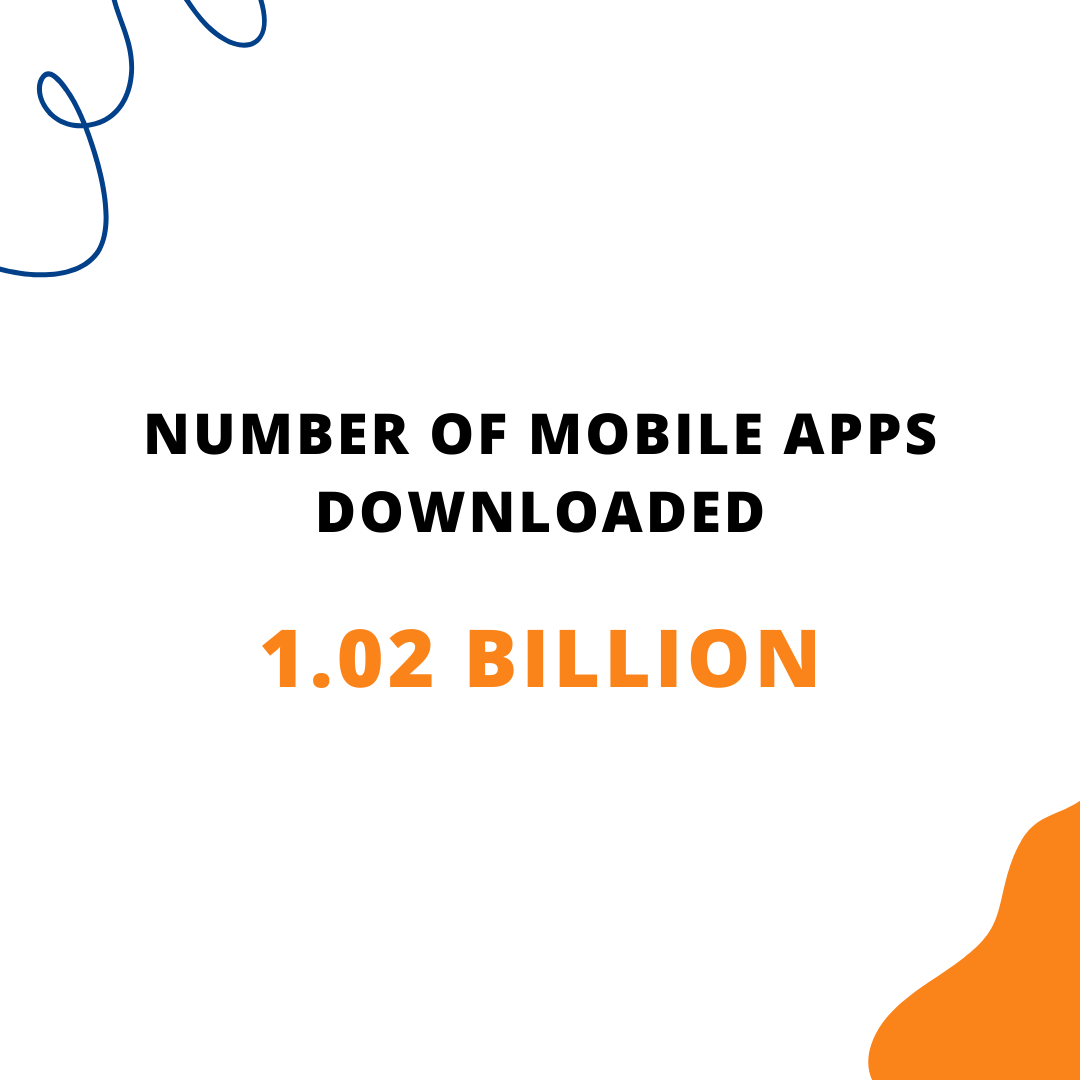 The total number of mobile apps downloaded in Canada is 1.14 billion.
Top Mobile App by Number of Downloads in Canada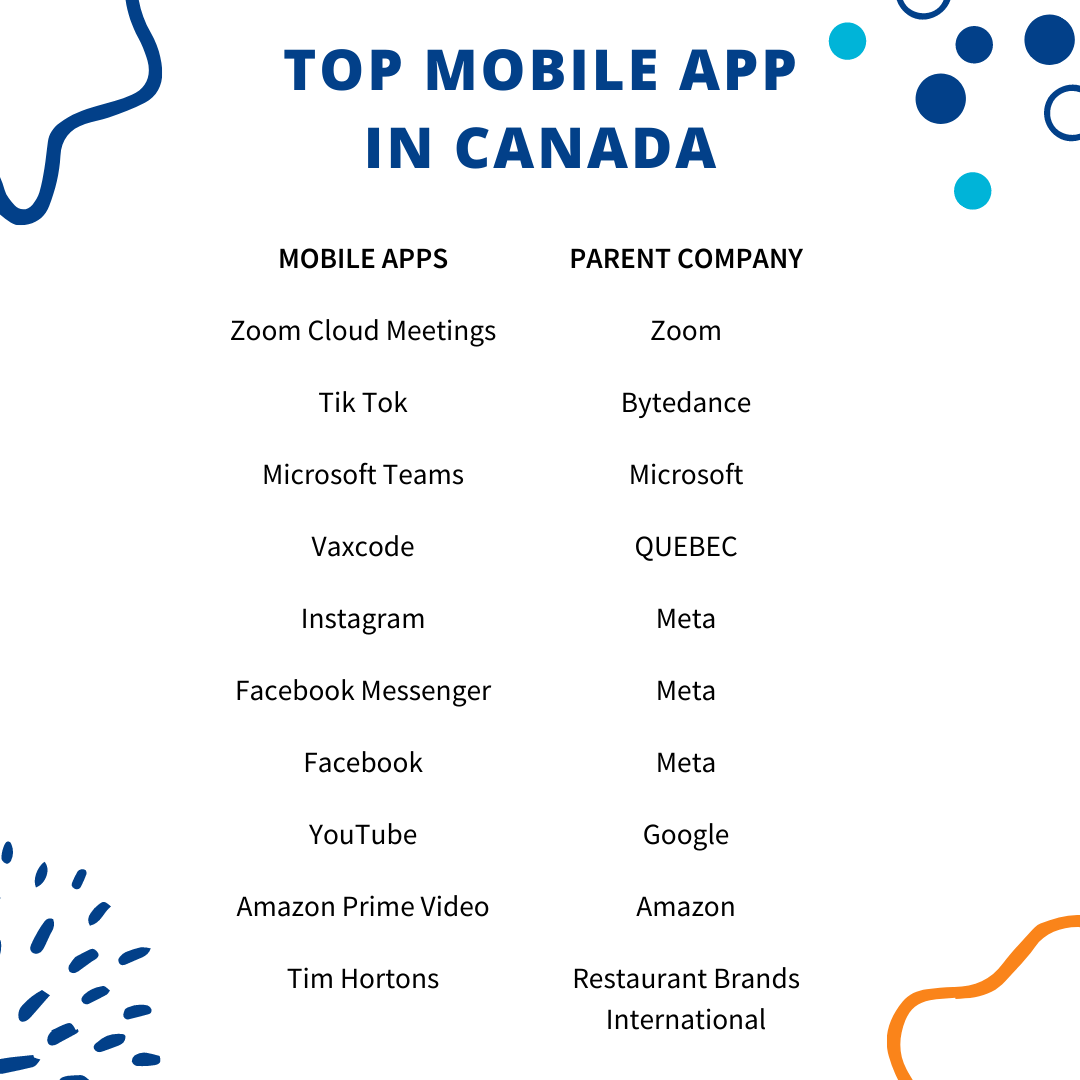 The top mobile app by a number of downloads in Canada is Zoom Cloud Meetings, which is used for video teleconferencing. It is followed by video-focused social networking service app, TikTok, Microsoft Teams, Vaxcode, Instagram, Facebook Messenger and Facebook. Then comes YouTube, followed by Amazon Prime Video and Tim Hortons.
—
01 Social is a sales-focused digital marketing agency in Canada.We craft authentic narratives for emerging Canadian businesses — so your brand can reach its full potential. We deep dive into your brand and apply the best strategies to give you a digital facelift🪄
Offerings
Social Media Calendar with Branded Content and Images

Platform-specific Strategies Facebook, LinkedIn, Instagram, Twitter, Pinterest, Whatsapp, Telegram, TikTok

Optimized Blog Posts

Page Monitoring & Responding

Boost Ad Management

Dedicated Account Manager

Competitor Monitoring

Brand Reputation Monitoring

Weekly Updates

Monthly Reports

No Contracts

No Set up fee
Package starts at $295/mo. 50% off on your first month. Let us take your brand to full throttle. 
https://www.01social.com
#socialmedia #socialmediacanada #socialmediagram #socialmediaguy #socialmediachat #socialmediaphoto #livevideo #livevideochat #blogging #vlogging #canadianblogger #canadianblog #blogger #bloggers #socialmedia #insta #instagood #blogged #bloggerlifestyle #bloggersofinstagram #instagram #canada #toronto #hamilton #barrie #socialmediacanada